California is America's preeminent wine destination. In fact, according to The Wine Institute,  90% of America's wine is produced in California. If the state were it's own country, it would be the fourth largest producer in the world behind France, Italy and Spain. California is as synonymous with wine, as wine is with California. I wanted to experience that firsthand, so I travelled, in one day, from Los Angeles to Napa, California travelling through world-renowned wine regions and up the coast of the Pacific Ocean.
To understand the breadth of California viticulture, you must visit a wide array of appellations. It is enlightening to witness on a sensory level the interactions between ancient remnants of now-dormant volcanoes, basalt and marine sediments, the Sierra Nevada Mountain Range, and other diverse geological formations that have been uniquely crafted from an epoch of subduction, eruptions, earthquakes and erosion. This remarkable history has distinguished California as the most unique geological state in the US, according to the California Department of Conservation.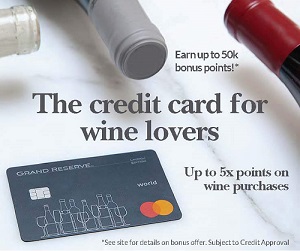 ---
Winetraveler Tip: Looking to visit Los Angeles or Napa? Get updates on flight deals into LAX or SFO here and checkout some of our favorite hotels in LA, Napa and San Francisco. Also, if you're a wine lover, consider signing up for the Grand Reserve MasterCard credit card. You'll earn extra points at many of the wineries in California, as well as anytime you purchase wine at shops all over the world.
---
Luckily for us, all of these factors produce complex and extraordinary growing conditions for wine. Travelling lengthwise up California wine country also allows you to see how climate impacts the same varietal in similar regions. Pinot Noirs from the Russian River Valley in Sonoma, for instance, can be darker in color with more body. In warmer sections of the region, this can produce Syrah-like Pinot Noirs. Santa Barbara County, though it shares similarly well-drained soil conditions with Sonoma, produces Pinot Noirs with a big mouth feel because of the relatively steady temperatures and seldom rainfall that provide for a long growing period that allow the grapes to mature before harvest. 
---
RELATED: How To Have a Perfect Long Weekend Getaway in Los Angeles According To a Local
---
I travelled from LA to Napa over the course of one day, but in retrospect, I would recommend splitting it up into two days so that you can not only appreciate the wines, but the grandeur of the state of California. I travelled along Highway 1 as it was available, and I wish I had more time to take in the beautiful towns and vista points along the way. If you have a few days to spare, take one of those days to truly experience the transition from a drier subtropical climate in Southern California to the cooler, Mediterranean climate of Napa and Northern California. View the exact route mapped out here.
---
Winetraveler Tip: Take a look at these great Vineyard Hotels to stay at in Napa Valley
---
First Stop: Santa Barbara!
If you land in LAX for your West Coast excursion, or if you're looking to escape the big city of Los Angeles, head North on the 101 towards Santa Barbara. I left at 8:00 in the morning, and by 9:30 I found myself with a litany of options for breakfast. I would recommend going to the Funk Zone section of the city for trendy coffee shops and restaurants that share a common theme of high-quality, wholesome foods. This section is also home to a myriad of tasting rooms and wineries. Santa Barbara is a laid back city, where the quality of the space is as valuable as the food or drink, so wherever you stop, it will be a nice time. This morning brought me to Municipal Winemakers on Anacapa Street.
---
Winetraveler Tip: Stay at one of these fancy hotels while visiting Santa Barbara
---
RELATED: CEO of Santa Barbara Vintners Explains The Perfect Santa Barbara Winery Itinerary
---
This offbeat and earthy space is as bright and welcoming as their wines. The standouts among their tasting menu were the 2017 Mubbly sparkling wine and the 2017 Bright Whites Riesling. The Mubbly is made from French Colombard grapes and is light and refreshing. This sparkling is fun to drink, it makes you want to bring it to the beach with you on a hot day. There is a crispness to it like granny smith apples on the tongue, and a sweetness that makes you think of key lime pie flavored frozen yogurt. It is great on a full stomach as well, not too heavy and not too acidic, just cute, fun and down to earth like the city it calls home. A perfect way to begin your wine journey through California.
If you are not a fan of sparkling, the 2017 Bright Whites Dry Riesling is a staple at Muni as well. Sourced from Los Alamos on Kick On Ranch, this wine is aged in stainless steel allowing it to cut through the sweetness making you wonder how they achieved such a well-balance Riesling with no residual sugar. It also pairs beautifully with the lobster rolls and oysters that can often be found out front of the tasting salon on weekends made from a genuine New Englander. It is appropriately named, as this wine is truly bright and is also floral with a little spritz as well.
On to the Central Coast!
Once you muster the courage to leave behind Santa Barbara and all of its beauty, you should embark on the next leg to your California viticulture pilgrimage. You'll need to travel up either the 101 or 154 through the Santa Ynez Valley. This region, which is broken down into four sub-AVAs boasts the highest concentration of wineries in Santa Barbara County. The region cools by the coast and progressively warms as you go inland allowing for a variety of wines to flourish including Pinot Noirs, Chardonnays, Cabernet Sauvignon and Merlot.
---
RELATED: Take a Scenic Drive on Sonoma's Bohemian Highway
---
At the most Northern end of Santa Barbara County is the Santa Maria AVA. Roughly an hour and a half from the city of Santa Barbara, depending on which route you take. Right off of exit 170 on the 101, you'll find Costa de Oro Winery. At the time I arrived, there was no one else in the tasting room, but I was greeted by the owner's son, Eli, as if I were an old friend. He told me of the community they've crafted alongside their wine, sharing live music, barbecues, and communion with their members and neighbors alike. It was comfortable and open in the tasting room, with a panoramic window looking out into the Valley.
My favorite wines at Costa de Oro included the 2017 Spring Fling, a 75% Chardonnay and 25% Sauvignon Blanc blend that brought heavy notes of pineapple to my palate. It made me want to put a flower behind my ear and board a flight to Hawaii. Their 2016 Estate Pinot Noir had a beautiful Ruby hue, with a dusty aroma and notes of dried roses, raspberry and Worcestershire.
The stand-out for me at this winery was their 2016 Petite Sirah. Sourced from the Santa Barbara Highlands, this gorgeous red had a bouquet of sage and plum. On the palate it balanced boysenberry and other earthy fruits with a smooth tannin structure that brought out the complexity of the fruit. It was more jelly than jam, and it had an incredible breath of lavender on both the nose and the tongue. When I asked what would pair well, Eli told me a tri tip. "But…" he said, "you need to cook it just right," emphasizing the "just" and punctuating the sentiment with his pointer finger and thumb barely touching in front of his eye. "When my grandfather met my grandmother's family for the first time, her father explained the secret was to put the tri tip on the barbecue, have a glass of scotch. By the time you're done that glass, flip it over, pour yourself another and when you're finished with that one it'll be done."
This way to Monterey!
Once you've enjoyed all that Santa Barbara County has to offer, it's time to continue North. I personally hopped on Highway 1 at this point, which added about an hour to the total trip, but it was time well spent looking out at the ocean as the roads curved and weaved through the sunlight. Since moving out West two years ago, the cliffs and sunset have yet to cease taking my breath away.
---
Winetraveler Tip: Take a look at our favorite hotels in Monterey Country
---
RELATED: Road Trip Itinerary For Navigating California's Pacific Coast Highway
---
After about three hours, you will find yourself in Monterey (take a look at an ideal 2 day Itinerary for visiting Monterey here). If you head into the town, it will be just about time for dinner. You can find fine meals at any price range in Monterey Bay, from tacos, to seafood, to steak, French or Italian. You're probably weary from the drive and you deserve a good meal to shake the road off of you!
Afterwards, I would suggest going to Pierce Ranch Vineyards' tasting room on Wave Street. It's centrally located and a relaxing space to prepare for the last leg of your journey. It has a rustic and uniquely California-country vibe. This small, family-owned operation specializes in Portuguese and Spanish varietals.
Their 2017 Albarino has a minerality and citrus quality to it, and would be nice on its own in warm weather or it can brighten up your winter nights alongside a soft brie or monterey jack cheese. Their Claret blend was elegant. It tasted like Christmas day with notes of cranberry cream, holly, and tobacco. It was described to me as the type of wine a Jane Austen character would drink, and as I settled into a good book the following Saturday with this wine at my side, I wouldn't help but agree!
Their most unique wine was their Tourbillon. A blend of 50% Tempranillo and 50% everything else, this red is sourced from Lockwood Family Estates (as are all of Pierce's wines). The Tourbillon is a medium-bodied wine that is lively, balanced and incredibly versatile. The bouquet will share floor fruits with cedar and candied apple, while I tasted notes of red berries and over-ripe cherries.  It pivots between being earthy, sweet and bright without being too much of either. I would pair this with a barbecue chicken to compliment  the sweetness of the sauce and the flavor of the chicken itself.
---
READ: 10 Unique Napa Valley Wineries To Visit
---
After Monterey, head to our old friend the 101 towards San Jose. In about two and a half hours you will be in downtown Napa. Depending on how you organized your trip, you may be arriving at night. In which case I would head to Compline on First Street, which is open until 12 AM, and boasts a wide array of everything California has to offer. If you're tired from the journey, don't fret! Get a good night's sleep, wake up the next morning and rejoice, you've made it to the American Viticultural Mecca.
---
Get Articles Like These Directly in Your Inbox!